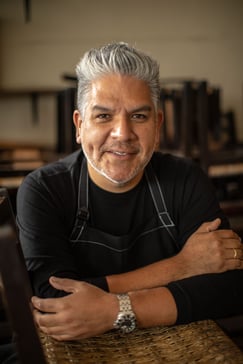 Chef Jose del Castillo began his career in the kitchen in 1981, assisting his mother in what would become the prestigious La Red restaurant. This marine food project was born at a time when Peruvian food was not considered as relevant as it is today. Through ceviches, causas, conchitas a la parmesana, tiraditos and many years of work, La Red and José del Castillo positioned themselves as part of the force that led Peruvian gastronomy to the world-renown it celebrates today.
Six years ago he started a new project, Isolina, where he consolidated years of experience, this time in delicious dishes of Creole and homemade food. Its immediate success led it to enter the lists of the best restaurants in Latin America and it became a must for visitors from all over the world who come to Lima with the intention of trying the intense flavours of the local gastronomy.
We talked with Jose to learn about his passion for Peru through his perspective from the kitchen.
What do you think makes Peruvian gastronomy different from others?
What mainly distinguishes Peruvian cuisine dates back to the hundreds of years it has been in evolution. Its history originates from pre-Inca cultures and is complemented by cultural fusion and migrations through the centuries. It is not something improvised, it has years in the making. The cultures of the regions, the ways of preparation, the products that grow in each ecosystem also influence what makes Peruvian cuisine so unique.
What factors do you think motivated the national and international acceptance of Peruvian food?
The pride of Peruvians towards food is the main hook. Foreigners are amazed to see that Peruvians believe in their own products and value them. Then when they try them, they are convinced and understand why. In recent years there was a change in the idea that everything foreign was better and we began to value our own. The result was a solid base for, in this case, the local gastronomy to position itself in the way it has.
What dish are you most proud of?
It may sound overused, but I consider ceviche to be the quintessential Peruvian dish. Not only for being the flagship dish and having been the workhorse that opened doors to our gastronomy in the world but for what it represents. It is a dish that has all the history that I mentioned before, and that after so many years of its creation, maintains its simplicity and charm.
From the gastronomic sector, have you taken actions to motivate the arrival of foreign tourists?
We have the support of CANATUR (National Chamber of Tourism of Peru) with whom we constantly work on actions to encourage the arrival of foreign visitors and also domestic tourism. We are going through an uncertain time, but we have adapted to the current rules for operation, implementing outdoor tables, capacity control and delivery. We hope the return of tourism since in recent years restaurants have also become part of the circuit that tourists came to visit and taste.
Why do you think a tourist should travel to Peru before to other destinations once the pandemic passes?
I could name many reasons, but I think it all comes down to diversity. We have wonderful destinations, history, archaeological sites, different cultures in each region, tropical and cold climates, beaches, mountains and jungle. That so many things come together in one place is something unique.
From a gastronomic point of view, diversity is the main hightlight. This is a country where you can find a kind of ceviche in Lima and a different one in Tumbes or Iquitos, and so on with other dishes. It is an inexhaustible source of flavours that we hope to continue sharing once this moment passes.
----------
As Jose mentions, Peruvian food has an impressive past, which, through diversity and creativity, has consolidated as one of the most important in the world. Its future is just as exciting, in addition to traditional dishes, new products and flavours continue to be discovered and will continue to captivate locals and visitors, further enriching the national menu. We look forward to receive you in Peru to discover it through your senses.